09 Feb 2022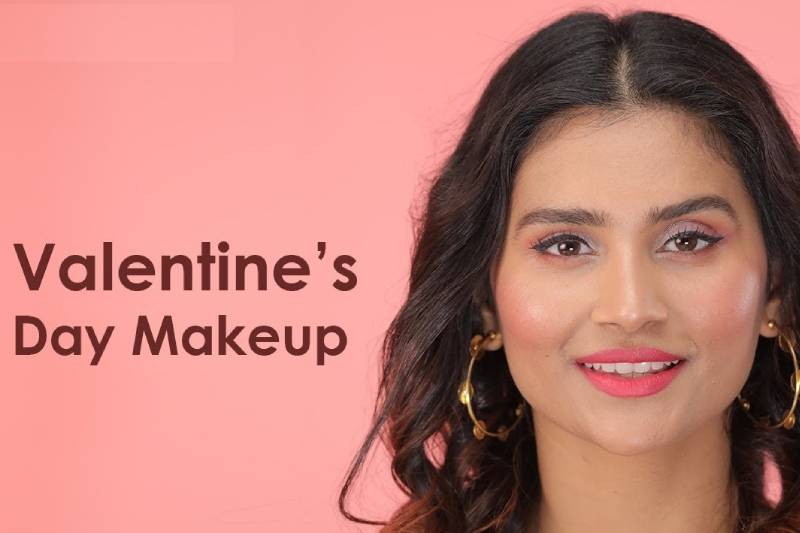 Whatever your plans for Valentine's Day are, everyone knows that the most exciting part of the day is getting ready! Whether you're going on a date with someone special or having drinks at a fancy restaurant with the girls, why not spice things up and try something new with your cosmetics look? You have the option of wearing traditional red lips, romantic pink eyes, or a strong eyeliner look! Don't be concerned! We've compiled a list of the finest beauty trends for 2022 so you can stay on top of all the new possibilities.
So, without further ado, let us get started for Valentine's Day makeup Look 2022:
Moody Red Lipstick
Nothing says Valentine's Day like brooding crimson lips. This deep shade offers your pout a sensual and sensuous appeal that couldn't be more on-trend, whether you're keeping your look low-key or want to increase the ante. Allow your lips to speak for themselves with the aid of lipstick in a rich hue.
Apex:
Red lipstick is difficult to apply and must be handled with caution. You may frame your lips with a red lip pencil before applying the lipstick and apply it that way. It will be simpler and more fluid.
Red eyeshadow creates a natural appearance
When we think red headlights, our minds immediately conjure up images of over-the-top make-up, right? Red headlights, on the other hand, might give you a more natural look! Coloured headlights have recently become popular in everyday make-up. The use patterns alter depending on how daring you are.
We thought this look, which is created by blending red and pink eyeshadows and delicately putting them on the eyelids and beneath the eyes, to be extremely suited for individuals who do not want to go to extremes on Valentine's Day! Remember to choose light-toned lipstick because your eyes will be the focal point of your look!
Cat Eyes | Valentine's Day Makeup Look
There's nothing like a classic cat-eye to put a smile on your face. A nicely drawn-out flick improves the contour of your eyes while also giving up some major attitude for an outstanding winged eyeliner effect when done correctly.
Glossy Lips | Valentine's Day Makeup Look
Glossy lips are making a comeback. Whatever the circumstance, a gleaming appearance will never let you down. It's not only elegant and timeless but it can also be worn from day till night. With only one stroke of the correct lip gloss, you can improve your lips' shape and draw attention to your pout. For everyone who despises the way, their hair attracts lip gloss like a magnet.
Metallic Makeup Beauty | Valentine's Day Makeup 2022
Metallic cosmetics, one of the most popular trends in recent years, are perfect for Valentine's Day! With your gold metallic makeup on top of your softly applied eyeshadow in red, pink, and brown tones, you may add a subtle shine to your eyelids. You'll like this outfit and won't be able to stop wearing it after Valentine's Day!
Lashes that are voluminous | Valentine's Day Makeup 2022
Focusing on your lashes is one of the simplest ways to boost your Valentine's Day makeup appearance. Voluminous lashes, which are meant to elevate lashes and make them seem bigger and healthier with little effort on your part, provide an extra touch of glam to your look with little work on your part.
A Touch of Pink | Valentine's Day Makeup Look
How much can a smidgeon of pink alter your look? It's far too much! We thought this sweet make-up would be perfect for Valentine's Day!
Just for your eyes, a thin eyeliner, a neutral-toned lipstick, and a pink eyeshadow. It's as simple as it is fascinating!
CONCLUSION:
These were a few Valentine's Day makeup styles that you can try in 2022.